Yesterday, I watched 'Despicable Me' on big screen.
Oh finally, yeah!!
I've always looking forward to go for this movie after getting influenced by the thriller and the making of.
Yes, children will definitely love the cute characters, but I believe adults will still find the movie very amusing. (If you don't, please consult your doctor).
Ok, please don't ever think that I am a childish adult. I'm just a person with lots of enjoyment. Hehe. (Well everybody, there is a child in you.)
This movie is a story about Gru, who is an evil supervillain that has slowly changed to be a good person. Since he's a little boy, he did so many things just to impress his mom, but unfortunately never get an attention from the nasty mother. By becoming the most outstanding criminal in history, he was thinking that he would make his mom proud.
In the plan to accomplish his mission to steal the moon, he decided to adopt 3 adorable orphans. He didn't know the charm of the three little girls could melt his cold heart.
One thing that I learnt from this movie is, how giving and sharing ♥love♥ can change a person. Undeniable, love is powerful, right?
This movie not only makes you giggle, laugh but through the end, it could make your eyes go wet. (Yes, I'm such a weeper.)
Just watch the movie, and figure out yourself.
Let's see their sweet moments together.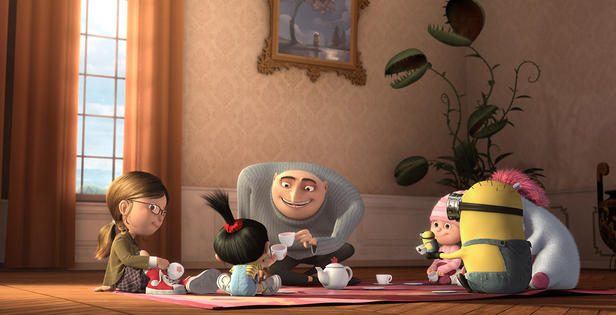 Lovely daddy.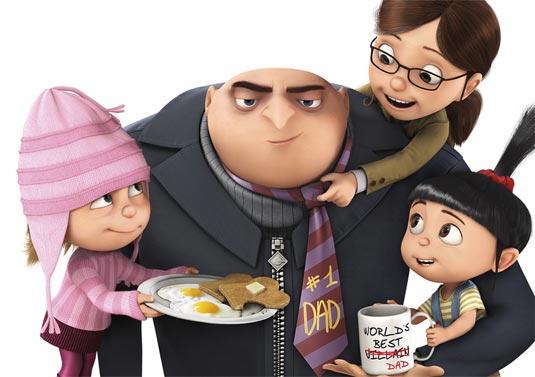 From bad to dad.
p/s: Spread your love to the loved one, two, three, four...and more!